Location Venue
Carolinum Charles University
Address:

Carolinum Charles University
Vlastenecký sál "Patriotic hall", 1st floor
Ovocný trh 3-5
Prague 1


Meeting room:
We have limited number of seats
– we can accept only 120 participants,
we recommend to provide your
on line registration on time.
The confirmation will be based upon
first come first served rule.

When Charles IV. founded Charles University in 1348 he stressed out that it was the first university in the central Europe. There were four faculties at that time: faculty of art, medical faculty, faculty of law and theological faculty. The lectures were given first in churches, monasteries or private flats. Charles College was founded in 1366, seated in the Jewish quarter. The teachers and students realised more and more that they needed a building that would represent the university. That's why the son of Charles IV, Wenceslas IV., bought for the university an imposing Gothic house of Jan Rotlev and added two other houses. These buildings were reconstructed for the university purposes and Charles Colleage moved into the new complex – Carolinum (Karolinum).
The buildings were extended – a new university chapel and a big hall for ceremonial assemblies – aula magna – were built. The university had lecture-rooms, assembly halls, flats for lecturers, a spa and even a prison.
The university building experienced a lot of events important in the Czech history. Professor and rector John Huss used to give lectures here.After 1620 the university was taken over by the Jesuits. They connected Carolinum with their college in Clementinum.
Carolinum's pride is the big aula which is used for university celebrations and graduation ceremonies. The main wall is decorated by a tapestry with the motive of Charles IV. kneeling in front of St. Wenceslas. In front the tapestry there is a bronze statue of Charles IV.
The chapel, arcade and walls of Carolinum still survive. Notice especially a fine Gothic oriel window from 1370. When walking in the centre of Prague, don't miss Carolinum where the important history has been written. Carolinum is open during ceremonies, special events or open-door days.

How to get there:
From Old Town Square walk along Zelezna street (near Old Town Hall) and turn left to Ovocny trh. Or along Celetna street and turn left. From Wenceslas Square walk along Na Mustku street and turn the second street right (to Rytirska street). Continue to Ovocny trh.
General information about Prague
Prague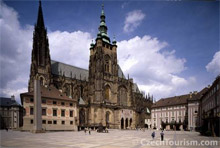 Prague is a city of very high standards, offering both historical and modern conference venues, hotels, restaurants and places of interest. Prague - the capital of the Czech Republic situated on both banks of the Vltava River is a beautiful city with a rich history. Thanks to its location in the centre of Europe, Prague has always been an important crossroads of trade and culture. Prague, often called "Golden" or "Hundred-spired", belongs to the architecturally unique European towns, attractive for tourists from around the world. Visitors find themselves enjoying a living museum of European architecture from Romanesque time to the present.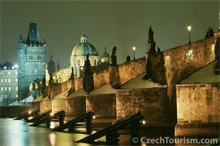 Prague has 1,200,000 inhabitants and stretches over approximately 500 square kilometres. The dominant feature of the city is Prague Castle, which houses the gothic St. Vitus Cathedral. The castle had been the seat of Czech kings since 1087, until 1918 when it became the seat of presidents of the Czechoslovak Republic, and since 1993 it has been the seat of the president of the Czech Republic. Prague has one of the oldest universities in Europe; the Charles University which was founded in 1348.
Prague has a designated UNESCO World Cultural and Natural Heritage area of more than 8 sq km, over 100 theatres, concert halls, galleries etc.
Numerous personalities famous world-wide have lived in Prague (e.g. Emperors Charles IV and Rudolph II, J. A. Comenius (Komenský), W. A. Mozart, Franz Kafka, A. Einstein, etc…). With a widely opened pro-market economy, stable democratic government, stable currency and well-known working skills of the people, this country provides a great opportunity to host a conference in order to meet scientists and business people from all over the world.
Complete information about Prague is available at the official website of Prague at www.cityofprague.cz.
Currency and Exchange Rates
The official currency of the Czech Republic is the Czech Crown = Česká koruna (CZK = Kč). Exchange of foreign currency is available at Prague International Airport and principal railway stations (ATM machines and exchange offices) and at most hotels, banks and exchange offices throughout the city. International credit cards are accepted as payment in hotels, restaurants and shops. Payment in cash in EUR is also possible at most restaurants and shops, please ask for details on-site.
You can find the official exchange rates on the website of the Czech National Bank at www.cnb.cz.
Electricity
The Czech Republic uses a 230 volt 50 Hz system, sockets are European standard and plugs are three-prong grounded.
Insurance
The organizers do not accept responsibility for individual medical, travel or personal insurance. All participants are strongly advised to make their own personal insurance before travelling to the congress.
Time Zone
The Czech Republic is on Central European Time – Greenwich Mean Time (GMT) plus 1 hour. From April to October it is summer time, i.e. GMT + 2 hours.
Weather
Autumm weather in Prague can be quite different, temperatures range from 10°C –to 20°C. You can find the current weather at www.weather.com.